[('rang', 1), (u'sheet', u'https://media.immo-facile.com/office12/centur_2111021034/catalog/images/pr_p/5/2/1/9/1/5/2/4/52191524a.jpg'), (u'v5icon', u'https://media.immo-facile.com/office12/centur_2111021034/catalog/images/pr_p/5/2/1/9/1/5/2/4/52191524a.jpg'), (u'big', u'https://media.immo-facile.com/office12/centur_2111021034/catalog/images/pr_p/5/2/1/9/1/5/2/4/52191524a.jpg'), (u'list', u'https://media.immo-facile.com/office12/centur_2111021034/catalog/images/pr_p/5/2/1/9/1/5/2/4/52191524a.jpg'), (u'v5sheet', u'https://media.immo-facile.com/office12/centur_2111021034/catalog/images/pr_p/5/2/1/9/1/5/2/4/52191524a.jpg'), (u'v5smallicon', u'https://media.immo-facile.com/office12/centur_2111021034/catalog/images/pr_p/5/2/1/9/1/5/2/4/52191524a.jpg'), (u'small', u'https://media.immo-facile.com/office12/centur_2111021034/catalog/images/pr_p/5/2/1/9/1/5/2/4/52191524a.jpg'), ('type_image', u'photo'), ('type', 'image'), (u'v5list', u'https://media.immo-facile.com/office12/centur_2111021034/catalog/images/pr_p/5/2/1/9/1/5/2/4/52191524a.jpg'), (u'icon', u'https://media.immo-facile.com/office12/centur_2111021034/catalog/images/pr_p/5/2/1/9/1/5/2/4/52191524a.jpg')]
[('rang', 2), (u'sheet', u'https://media.immo-facile.com/office12/centur_2111021034/catalog/images/pr_p/5/2/1/9/1/5/2/4/52191524b.jpg'), (u'v5icon', u'https://media.immo-facile.com/office12/centur_2111021034/catalog/images/pr_p/5/2/1/9/1/5/2/4/52191524b.jpg'), (u'big', u'https://media.immo-facile.com/office12/centur_2111021034/catalog/images/pr_p/5/2/1/9/1/5/2/4/52191524b.jpg'), (u'list', u'https://media.immo-facile.com/office12/centur_2111021034/catalog/images/pr_p/5/2/1/9/1/5/2/4/52191524b.jpg'), (u'v5sheet', u'https://media.immo-facile.com/office12/centur_2111021034/catalog/images/pr_p/5/2/1/9/1/5/2/4/52191524b.jpg'), ('type_image', u'photo'), (u'small', u'https://media.immo-facile.com/office12/centur_2111021034/catalog/images/pr_p/5/2/1/9/1/5/2/4/52191524b.jpg'), (u'v5smallicon', u'https://media.immo-facile.com/office12/centur_2111021034/catalog/images/pr_p/5/2/1/9/1/5/2/4/52191524b.jpg'), ('type', 'image'), (u'v5list', u'https://media.immo-facile.com/office12/centur_2111021034/catalog/images/pr_p/5/2/1/9/1/5/2/4/52191524b.jpg'), (u'icon', u'https://media.immo-facile.com/office12/centur_2111021034/catalog/images/pr_p/5/2/1/9/1/5/2/4/52191524b.jpg')]
[('rang', 3), (u'sheet', u'https://media.immo-facile.com/office12/centur_2111021034/catalog/images/pr_p/5/2/1/9/1/5/2/4/52191524c.jpg'), (u'v5icon', u'https://media.immo-facile.com/office12/centur_2111021034/catalog/images/pr_p/5/2/1/9/1/5/2/4/52191524c.jpg'), (u'big', u'https://media.immo-facile.com/office12/centur_2111021034/catalog/images/pr_p/5/2/1/9/1/5/2/4/52191524c.jpg'), (u'list', u'https://media.immo-facile.com/office12/centur_2111021034/catalog/images/pr_p/5/2/1/9/1/5/2/4/52191524c.jpg'), (u'v5sheet', u'https://media.immo-facile.com/office12/centur_2111021034/catalog/images/pr_p/5/2/1/9/1/5/2/4/52191524c.jpg'), (u'v5smallicon', u'https://media.immo-facile.com/office12/centur_2111021034/catalog/images/pr_p/5/2/1/9/1/5/2/4/52191524c.jpg'), (u'small', u'https://media.immo-facile.com/office12/centur_2111021034/catalog/images/pr_p/5/2/1/9/1/5/2/4/52191524c.jpg'), ('type_image', u'photo'), ('type', 'image'), (u'v5list', u'https://media.immo-facile.com/office12/centur_2111021034/catalog/images/pr_p/5/2/1/9/1/5/2/4/52191524c.jpg'), (u'icon', u'https://media.immo-facile.com/office12/centur_2111021034/catalog/images/pr_p/5/2/1/9/1/5/2/4/52191524c.jpg')]
[('rang', 4), (u'sheet', u'https://media.immo-facile.com/office12/centur_2111021034/catalog/images/pr_p/5/2/1/9/1/5/2/4/52191524d.jpg'), (u'v5icon', u'https://media.immo-facile.com/office12/centur_2111021034/catalog/images/pr_p/5/2/1/9/1/5/2/4/52191524d.jpg'), (u'big', u'https://media.immo-facile.com/office12/centur_2111021034/catalog/images/pr_p/5/2/1/9/1/5/2/4/52191524d.jpg'), (u'list', u'https://media.immo-facile.com/office12/centur_2111021034/catalog/images/pr_p/5/2/1/9/1/5/2/4/52191524d.jpg'), (u'v5sheet', u'https://media.immo-facile.com/office12/centur_2111021034/catalog/images/pr_p/5/2/1/9/1/5/2/4/52191524d.jpg'), ('type_image', u'photo'), (u'small', u'https://media.immo-facile.com/office12/centur_2111021034/catalog/images/pr_p/5/2/1/9/1/5/2/4/52191524d.jpg'), (u'v5smallicon', u'https://media.immo-facile.com/office12/centur_2111021034/catalog/images/pr_p/5/2/1/9/1/5/2/4/52191524d.jpg'), ('type', 'image'), (u'v5list', u'https://media.immo-facile.com/office12/centur_2111021034/catalog/images/pr_p/5/2/1/9/1/5/2/4/52191524d.jpg'), (u'icon', u'https://media.immo-facile.com/office12/centur_2111021034/catalog/images/pr_p/5/2/1/9/1/5/2/4/52191524d.jpg')]
[('rang', 5), (u'sheet', u'https://media.immo-facile.com/office12/centur_2111021034/catalog/images/pr_p/5/2/1/9/1/5/2/4/52191524e.jpg'), (u'v5icon', u'https://media.immo-facile.com/office12/centur_2111021034/catalog/images/pr_p/5/2/1/9/1/5/2/4/52191524e.jpg'), (u'big', u'https://media.immo-facile.com/office12/centur_2111021034/catalog/images/pr_p/5/2/1/9/1/5/2/4/52191524e.jpg'), (u'list', u'https://media.immo-facile.com/office12/centur_2111021034/catalog/images/pr_p/5/2/1/9/1/5/2/4/52191524e.jpg'), (u'v5sheet', u'https://media.immo-facile.com/office12/centur_2111021034/catalog/images/pr_p/5/2/1/9/1/5/2/4/52191524e.jpg'), (u'v5smallicon', u'https://media.immo-facile.com/office12/centur_2111021034/catalog/images/pr_p/5/2/1/9/1/5/2/4/52191524e.jpg'), (u'small', u'https://media.immo-facile.com/office12/centur_2111021034/catalog/images/pr_p/5/2/1/9/1/5/2/4/52191524e.jpg'), ('type_image', u'photo'), ('type', 'image'), (u'v5list', u'https://media.immo-facile.com/office12/centur_2111021034/catalog/images/pr_p/5/2/1/9/1/5/2/4/52191524e.jpg'), (u'icon', u'https://media.immo-facile.com/office12/centur_2111021034/catalog/images/pr_p/5/2/1/9/1/5/2/4/52191524e.jpg')]
[('rang', 6), (u'sheet', u'https://media.immo-facile.com/office12/centur_2111021034/catalog/images/pr_p/5/2/1/9/1/5/2/4/52191524f.jpg'), (u'v5icon', u'https://media.immo-facile.com/office12/centur_2111021034/catalog/images/pr_p/5/2/1/9/1/5/2/4/52191524f.jpg'), (u'big', u'https://media.immo-facile.com/office12/centur_2111021034/catalog/images/pr_p/5/2/1/9/1/5/2/4/52191524f.jpg'), (u'list', u'https://media.immo-facile.com/office12/centur_2111021034/catalog/images/pr_p/5/2/1/9/1/5/2/4/52191524f.jpg'), (u'v5sheet', u'https://media.immo-facile.com/office12/centur_2111021034/catalog/images/pr_p/5/2/1/9/1/5/2/4/52191524f.jpg'), (u'v5smallicon', u'https://media.immo-facile.com/office12/centur_2111021034/catalog/images/pr_p/5/2/1/9/1/5/2/4/52191524f.jpg'), (u'small', u'https://media.immo-facile.com/office12/centur_2111021034/catalog/images/pr_p/5/2/1/9/1/5/2/4/52191524f.jpg'), ('type_image', u'photo'), ('type', 'image'), (u'v5list', u'https://media.immo-facile.com/office12/centur_2111021034/catalog/images/pr_p/5/2/1/9/1/5/2/4/52191524f.jpg'), (u'icon', u'https://media.immo-facile.com/office12/centur_2111021034/catalog/images/pr_p/5/2/1/9/1/5/2/4/52191524f.jpg')]
[('rang', 7), (u'sheet', u'https://media.immo-facile.com/office12/centur_2111021034/catalog/images/pr_p/5/2/1/9/1/5/2/4/52191524g.jpg'), (u'v5icon', u'https://media.immo-facile.com/office12/centur_2111021034/catalog/images/pr_p/5/2/1/9/1/5/2/4/52191524g.jpg'), (u'big', u'https://media.immo-facile.com/office12/centur_2111021034/catalog/images/pr_p/5/2/1/9/1/5/2/4/52191524g.jpg'), (u'list', u'https://media.immo-facile.com/office12/centur_2111021034/catalog/images/pr_p/5/2/1/9/1/5/2/4/52191524g.jpg'), (u'v5sheet', u'https://media.immo-facile.com/office12/centur_2111021034/catalog/images/pr_p/5/2/1/9/1/5/2/4/52191524g.jpg'), ('type_image', u'photo'), (u'small', u'https://media.immo-facile.com/office12/centur_2111021034/catalog/images/pr_p/5/2/1/9/1/5/2/4/52191524g.jpg'), (u'v5smallicon', u'https://media.immo-facile.com/office12/centur_2111021034/catalog/images/pr_p/5/2/1/9/1/5/2/4/52191524g.jpg'), ('type', 'image'), (u'v5list', u'https://media.immo-facile.com/office12/centur_2111021034/catalog/images/pr_p/5/2/1/9/1/5/2/4/52191524g.jpg'), (u'icon', u'https://media.immo-facile.com/office12/centur_2111021034/catalog/images/pr_p/5/2/1/9/1/5/2/4/52191524g.jpg')]
[('rang', 8), (u'sheet', u'https://media.immo-facile.com/office12/centur_2111021034/catalog/images/pr_p/5/2/1/9/1/5/2/4/52191524h.jpg'), (u'v5icon', u'https://media.immo-facile.com/office12/centur_2111021034/catalog/images/pr_p/5/2/1/9/1/5/2/4/52191524h.jpg'), (u'big', u'https://media.immo-facile.com/office12/centur_2111021034/catalog/images/pr_p/5/2/1/9/1/5/2/4/52191524h.jpg'), (u'list', u'https://media.immo-facile.com/office12/centur_2111021034/catalog/images/pr_p/5/2/1/9/1/5/2/4/52191524h.jpg'), (u'v5sheet', u'https://media.immo-facile.com/office12/centur_2111021034/catalog/images/pr_p/5/2/1/9/1/5/2/4/52191524h.jpg'), (u'v5smallicon', u'https://media.immo-facile.com/office12/centur_2111021034/catalog/images/pr_p/5/2/1/9/1/5/2/4/52191524h.jpg'), (u'small', u'https://media.immo-facile.com/office12/centur_2111021034/catalog/images/pr_p/5/2/1/9/1/5/2/4/52191524h.jpg'), ('type_image', u'photo'), ('type', 'image'), (u'v5list', u'https://media.immo-facile.com/office12/centur_2111021034/catalog/images/pr_p/5/2/1/9/1/5/2/4/52191524h.jpg'), (u'icon', u'https://media.immo-facile.com/office12/centur_2111021034/catalog/images/pr_p/5/2/1/9/1/5/2/4/52191524h.jpg')]
Camping Restaurant à vendre
2100 m2 -
21 - Cote-d'Or
Ref: 10000457
Vend magnifique Domaine Touristique avec Gite Restaurant et Camping 5*****.
Situé dans un domaine au coeur du Vignoble Bourguignon, entre Beaune et Mâcon et proche de la Voie Bleue « Moselle et Saône à Vélo ».

Cette belle propriété de plus de 10 ha comprend un château construit entre le XVIème et XVIIIème siècle, composé de pierre, d'une rotonde, de fresques, d'un bel escalier le tout dans un parc verdoyant avec sentier pédestre et une forêt d'1,5 ha.

L'aile Ouest du château est dédiée au gîte avec 3 appartements de 50 m² chacun tout équipé avec salon ouvert sur la cuisine, salle d'eau, WC et 2 chambres, le tout avec une décoration soignée avec le charme de la pierre.

L'aile Est est dédiée à la restauration avec un restaurant traditionnel et un restaurant rapide pour le camping.

Le reste du château comporte : un magnifique appartement de fonction en duplex de 190 m² environ avec cuisine tout équipée, salon, salle à manger avec plafond ornés de fresque et parquet ancien, 2 chambres, salle de bain et sanitaires ; 2 appartements à rafraîchir de 50 m² chacun ; 2 appartement dédié au personnel de 65 m² et 100 m².

Le camping dispose de 160 emplacements pour caravane, camping-car et tente. Ceux-ci de distingue en 2 catégories : grand confort et classique. Tous sont équipés de branchements électriques. Les emplacements grand confort profitent chacun d'un point d'eau et d'une évacuation. En option, 2 emplacements permettent de profiter d'équipement estival tel que table et chaises d'extérieurs, bains de soleil et barbecue. Un bâtiment avec les sanitaires communs sont également à proximité de ces emplacements.

Les clients des gîtes et du camping peuvent également profiter d'une supérette, un bar, un restaurant à emporter, une piscine intérieure et une extérieure avec vestiaires, une aire de jeux, un étang de 1,5 ha, un terrain multisport, un service de location de vélos ainsi que d'un caveau de dégustation avec voute en pierre.

Pour la partie restaurant traditionnel, on trouve 2 salles de restauration, un bar, une salle de séminaire pouvant accueillir 100 personnes, une salle de de jeux avec billard et baby-foot et une cuisine bien équipée avec chambre froide.

Ouvert d'Avril à Septembre.
Le prix comprend la vente du Fonds de Commerce et des Murs avec accompagnement possible pendant une saison.
Affaire unique et exceptionnelle.
Coup de coeur garanti !

______________________________________________________________________

Sells magnificent Tourist Estate with Gite Restaurant and 5***** Campsite.
Located in an area in the heart of the Burgundy vineyard, between Beaune and Mâcon and close to the Blue Route "Moselle and Saône by Bike".

This beautiful property of more than 10 ha includes a castle built between the 16th and 18th centuries, made up of stone, a rotunda, frescoes, a beautiful staircase, all in a green park with a footpath and a forest of trees. 1.5 ha.
The West wing of the chateau is dedicated to the gite with 3 fully equipped apartments of 50 sqm each with a living room opening onto the kitchen, shower room, WC and 2 bedrooms, all tastefully decorated with the charm of stone. T
he east wing is dedicated to catering with a traditional restaurant and a quick restaurant for the campsite.

The rest of the castle includes: a magnificent duplex official apartment of approximately 190 sqm with fully equipped kitchen, living room, dining room with ceiling decorated with frescoes and old parquet floors, 2 bedrooms, bathroom and toilets; 2 apartments to refresh of 50 sqm each; 2 dedicated staff apartments of 65 sqm and 100 sqm.

The campsite has 160 pitches for caravans, motorhomes and tents. These are divided into 2 categories: high comfort and classic. All are equipped with electrical connections. The high comfort pitches each have a water point and a drain. As an option, 2 pitches allow you to take advantage of summer equipment such as outdoor table and chairs, sun loungers and barbecue. A building with shared toilets is also close to these pitches.

Guests of the lodges and the campsite can also take advantage of a mini-market, a bar, a take-away restaurant, an indoor and an outdoor swimming pool with changing rooms, a playground, a 1.5 ha pond, a multisports ground, a bicycle rental service as well as a tasting cellar with stone vault.

For the traditional restaurant part, there are 2 dining rooms, a bar, a seminar room that can accommodate 100 people, a games room with billiards and table football and a well-equipped kitchen with cold room.

Open from April to September.
The price includes the sale of the Goodwill and the Walls with possible support for one season.
Unique and exceptional case.
Blow of heart guaranteed!
Les performances énergétiques
Classe énergie
Bâtiment économe
≤ 50

A

51 à 110

B

111 à 210

C

211 à 351

D

351 à 540

E

541 à 750

F

> 750

G
Bâtiment énergivore
Classe GES
Faible émission de GES
≤ 5

A

6 à 15

B

16 à 30

C

31 à 60

D

61 à 100

E

101 à 145

F

> 145

G
Forte émission de GES
Notre agence
CENTURY 21 Coeur Entreprise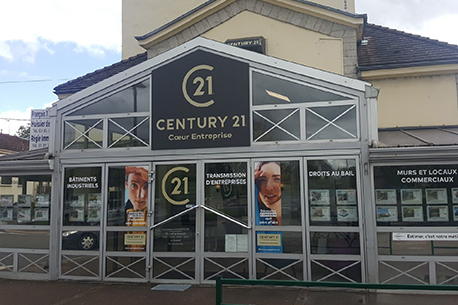 CENTURY 21 Coeur Entreprise
2 Place Marcel Guinot
71500 LOUHANS